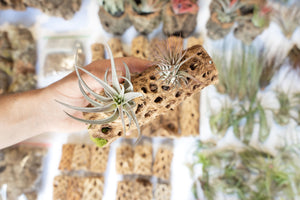 How can we help?
From air plants to drop shipping and corporate gifts, trust our specialized team for all your air plant needs.
Learn More
New Rooted Cuttings
Calathea 'Prayer Plants' direct from our Jungle Nursery, perfect for resale, starting at $1.25/each.
Learn More
---
Easy Online Ordering|Bulk Pricing for Everyone
Free & Fast Shipping on Orders over $60|30 Day Guarantee
Note: 
Depending on order weight, we may
use UPS Ground to deliver our bulk wood products. Delivery time may be as long as one week on these orders. Live plants are always shipped separately with Priority Mail.
---